Download a code and create a page
Fill out step one and watch your links populate on the right
Add as many destinations as you'd like. Your code will scan to a page that includes them all.
Upload an image/logo (optional)
Name your page and code (optional)
Sign up to download your Flowcode
No thanks, I just want a Flowcode
Start with Step 1 to start building your page
Your Flowcode will scan to a mobile friendly landing page, optimized for conversions.
Your Flowcode will scan to a mobile friendly landing page, optimized for conversions. You will have more customization options once created.
An experience proven to increase engagement and conversions
Turn real world interactions into digital customers
Flowcode
The highest converting QR code on the market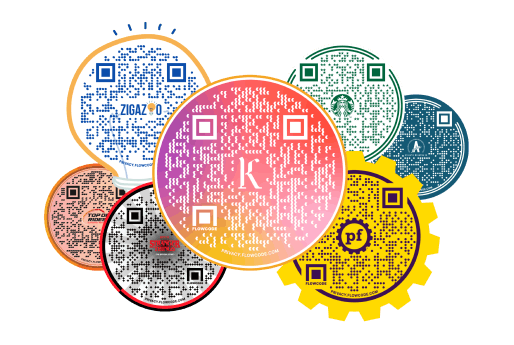 Best-in-class custom design
Ultra-fast scanning
Dynamic redirect destination
Privacy compliant
Quality assured
Premium customer service
Flowpage
Mobile-optimized landing page platform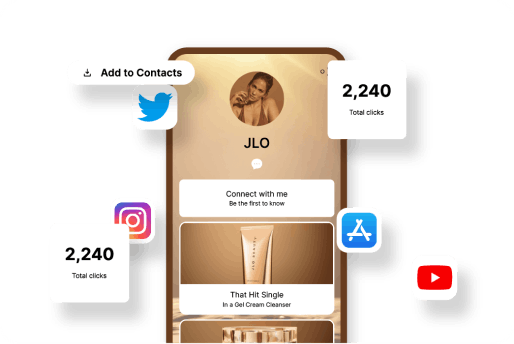 Create in under 60 seconds
Organizes your digital footprint
Customize with unique designs
Mobile-first easy navigation
Quickly organizes all your links
Personalize site widgets
Data & Analytics
Proprietary data and audience insights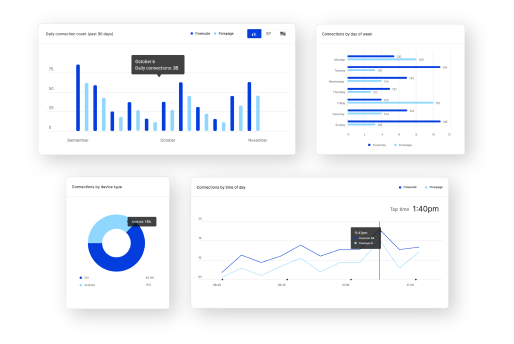 Daily connection count
Connections by time of day
Connections by device type
Live scan tracking
Geo-location tracking
Generate & share detailed reports
Used by over 10,000 businesses and 5 million individuals across 100+ countries with proven results
Ways to use Flowcode
Click below to see examples and best practices
Loved by people and businesses around the world
"Flowcode helped us introduce new actionable experiences that drive higher fan engagement. The functionality and design resources allow us to easily work with our partners to seamlessly integrate the units into our telecasts."

"Our partnership with Flowcode helped us think outside the box to create new retail concepts that drive growth, profitability and shared success with our customers and community."

Now availabe at Nordstrom and Kohl's

"Flowcode has been game-changing for us in understanding where and how our consumers interact with the brand. Their team is best in class and their expertise in driving direct connections is unmatched."

Now availabe at Jewel-Osco, NYC Wine & Food Festival, & Gopuff

"Flowcode takes QR codes to the next level. Now when guests scan the code, they're taken to a Dante-designed Flowpage where they do everything from view our menu, fill out contact tracing info, download our app and even access our Dante-curated Spotify playlist."
Creator office hours
Our office is in the heart of Soho in NYC. If you happen to be in the area, we would love to meet you! We are available Tuesdays from 9am-5pm to answer questions or just talk. Walk-ins are accepted.
45 Grand Street New York, NY 10013
FAQ's
What is a QR code?
QR code or "Quick Response code" is a type of barcode that stores information as a series of pixels and can be read by a mobile device. QR codes allow you to connect your audience to a digital destination through their smartphone.
What are the benefits of QR Codes?
QR codes allow you to connect with your audience through their mobile phone. Your QR code can promote your website, send viewers to a promotion, showcase a video, document, menu, or any other digital experience.
Are QR codes free?
Most QR codes are usually free for a limited time window. With Flowcode, your first 3 QR codes are free, last forever, and can be updated anytime.
How can I use QR codes for my business?
QR codes have become a popular tool for marketers because of the versatility they offer. You can set a QR code to scan to almost any digital experience including:
A website.
Customer contact collection
Download an app on the Apple App Store or Google Play.
A menu or order form.
A PDF
A video, audio track, or blog.
Access Wi-Fi by storing encryption details such as network ID and password.
Sending and receiving payment information.
How do QR codes work?
All newly released smartphones have built-in QR readers so there's no longer a need to download a QR reader app. All you need to do is open your smartphone's camera, point it at the code, tap the dropdown banner, and you'll be taken to the QR code's scan destination.
How can I create my own QR code for free?
Creating a QR code for free takes less than 60 seconds with platforms like Flowcode. With Flowcode, you can make three QR codes for free that all have unlimited scan capabilities.
What is the safest QR code generator?
When searching for a QR code generator that protects your privacy, it's important to note that not all of them have your security in mind. Because Flowcode is GDPR and CCPA compliant, when you scan a Flowcode there is no question where your code was generated and that your privacy is protected.
Are free QR codes safe?
It all depends on where you produce your QR code. When searching for a place to make free QR codes, your safety is guaranteed with platforms like Flowcode. Flowcode is fully privacy compliant and ensures the security of all code creators and scanners is protected.
What is the best free QR code generator?
If you're searching for a QR code generator that give you the most code creation and scans, the only option worth considering is Flowcode. Other platforms like Beaconstac and QR Code Generator aren't free, and even their paid plans have fewer features than Flowcode.
Start building connections with your customers today